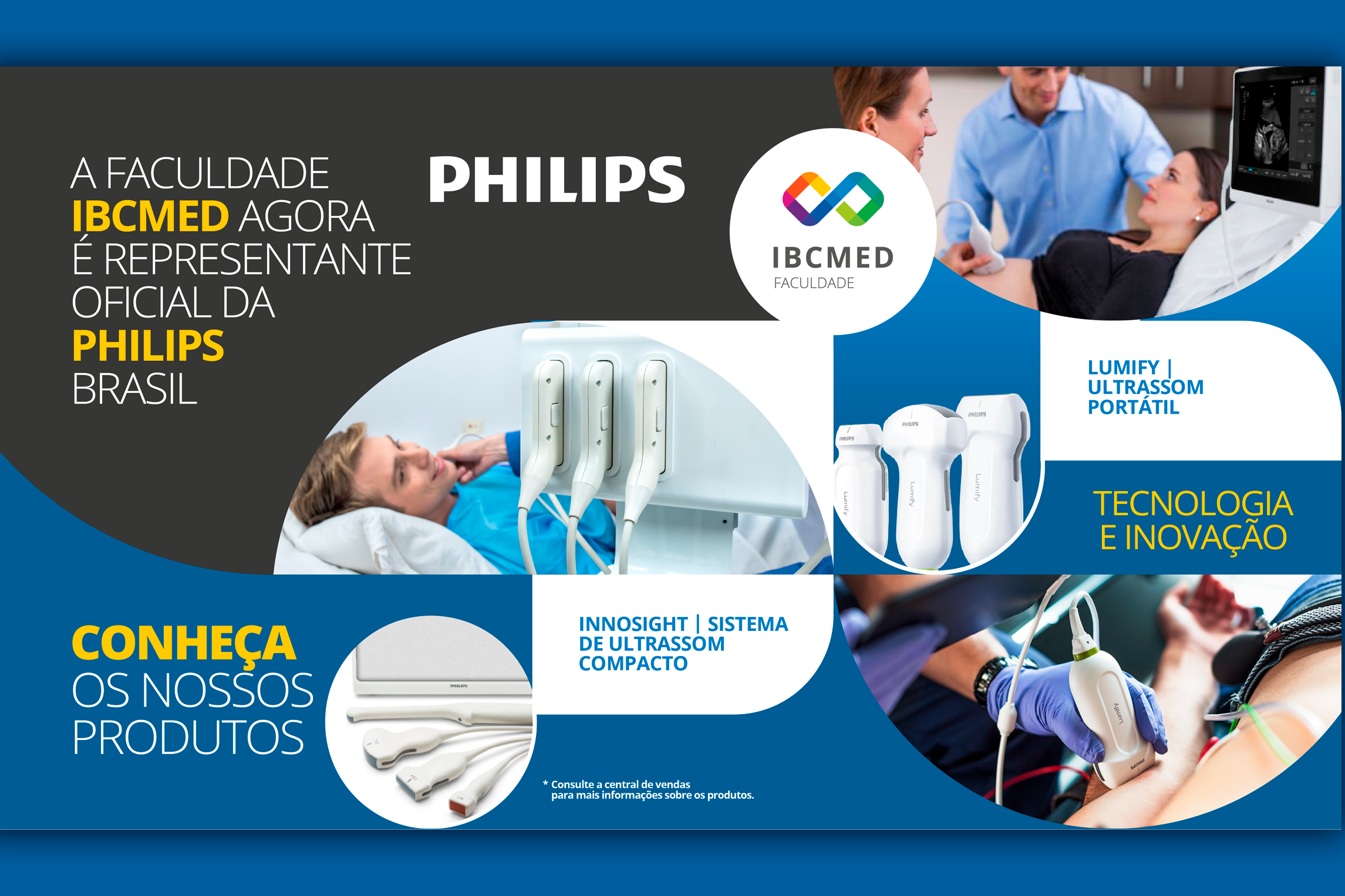 a
Now you can purchase your Philips equipment with IBCMED College
In search of providing the best opportunities for its students, IBCMED College became an official representative of Philips Brazil. In this way, students can purchase medical equipment directly from the institution, having access to the best of technology and innovation.
A new way to facilitate and help in daily routine of health professionals. Philips medical equipment has already been approved even for use by international military forces.
These equipments are of great help in telemedicine, which has proven to be necessary at the time we live. The coordinator of the MBA in Management and Innovation in Medicine of IBCMED Faculty, Dr. Jefferson Fernandes, explained in his article that "that need created an enormous opportunity for the use of telemedicine in its different modalities, because, in essence, it allows to overcome the barrier of distance in the care of people."
Discover our products
As an official representative of Philips Brazil, IBCMED will sell two products for diagnostic imaging. You can purchase through the College's sales center. See the products.
Lumify S4-1
The sectoral transducer Lumify S4-1 can help you examine cardiac function or perform FAST tests quickly, right from your Android mobile device or compatible smartphone. With Lumify S4-1, you acquire Philips quality cardiac images on a device that goes wherever you go and has portability without compromising image quality.
Real-time collaboration can make all the difference for some patients. When you need to consult other experts, Lumify, with Reacts capabilities, allows you to simultaneously transmit live ultrasound images, video and audio, straight from your device smart. You will be able to receive immediate feedback to optimize your patient's treatment plan.
Approved after undergoing a series of rigorous military tests, Philips Lumify has been certified for use in the field by the American Air Force and the German Armed Forces by doctors and paramedics. These tests and assessments include human factors (such as falls and misuse), safety procedures, battery performance, electrical safety, low pressure, and rapid decompression, environmental testing, explosions, and more.
InnoSight
The InnoSight Philips ultrasound system allows you to scan patients in locations other than the clinical locations where you provide care. The compact and highly portable ultrasound system InnoSight, with its innovative and ergonomic design, and clinical versatility, allows you to bring ultrasound to patients, whether in the office, clinic or hospital.
An intuitive user interface and an optimized workflow make InnoSight easy to use while reducing the learning curve. The customizable workflow and programmable keys provide a personalized experience.
At just 2,5 kg, the lightweight and ergonomically designed InnoSight tablet offers enhanced mobility. With a autonomy battery life of approximately 1h30, instant "on" and advanced connectivity features, InnoSight allows mobility without obstacles.
With InnoSight, you can configure the system according to your needs and preferences. Customize preferred behaviors for image, workflow, connectivity, measurements and more.